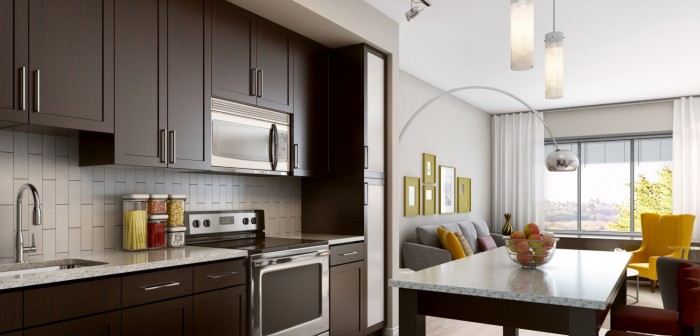 Maximize Kitchen Space With These Minimalist Tips
August 4, 2015
If you get the urge to make chocolate chip cookies one day, you shouldn't have to spend three hours trying to locate your baking sheet. And when you finally locate all the right tools, you shouldn't have to struggle to find counter space either. Cookies demand immediate action!
So let's make this easier. It's time to maximize kitchen space (and organization) with some minimalist tips. A little work in the beginning will pay off later on–plus, you'll be able to show off that gorgeous tile backsplash and those elegant granite countertops again.
Ditch Needless Tools and Appliances
This one's tough. If your appliances scream "I'm a professional pastry chef" but your state-of-the-art food processor barely sees the light of day, it's time for an appliance overhaul. Unearth every appliance and tool–from pastry cutters to bundt pans–and ask yourself: will I use this more than once a year? (Of course, those gingerbread cookie cutters are exempt.)
If the answer is no, think about whether you could sell or donate that item. Someone out there might actually be an aspiring pastry chef who just doesn't have the right tools to really work. You could be their life saver, and create more space for yourself at the same time. Oh, and a note about single-purpose kitchen appliances like toasters: if it does what a toaster oven, microwave, or oven does, ditch it. Adios, Easy Bake oven. Now, start breathing easier as the bulk is removed.
Organize Your Food (Seriously!)
It feels weird to organize things that you consume, but when you sit down to organize your fridge and pantry, two great things happen: one, you discover foods and are inspired to create new concoctions (Nutella, banana, and peanut butter muffins? Yes please!) and two, new space appears. That's right. New space for exciting foods.
Once you chuck the unpleasantly moldy cheese and the stale bread, you can organize your pantry and fridge according to your eating style. Whether it's by grouping ingredients by meal (chicken near fresh parsley and lemon, or all breakfast foods together), or food category (avocados with tomatoes, yogurt with milk), make it work for you. Do this weekly, or every time you grocery shop–and don't be surprised if you're excited to cook more.
Use Cabinet Space Savers
Now, swing open those gorgeous wood cabinets and get to work. Remove everything. Yes, your floor and counters will be temporarily unusable, so make sure you don't have to prep for a dinner party tonight. This could take a while.
Start by going through mugs, cups, silverware, and china. Ensure you only keep things that fit one or both of these categories:
Valuable/special
Used weekly
That should eliminate all of those cheap plastic cups leftover from college and unused tupperware, at the least. And the thousands of mugs? Keep the really meaningful/useful ones (AKA the ones that carry 32 ounces of coffee) and donate the rest to your work kitchen. Or the thrift store.
Next, head out and purchase space savers like this pot lid organizer and this bamboo kitchenware divider. Use vertical space and install strips of steel magnets on the wall for knives, or mount hooks for pots. Use these handy silver baskets to store nearly anything in style, and gather those tumbleweeds known as grocery bags into this holder. Better yet, start taking your own woven bags to the store and forgo plastic altogether. Go crazy organizing–the world is your (tidy) oyster.
Once you've finished your project, you may be too exhausted to cook, and we don't really blame you! Good thing you live in the beautiful little city of Falls Church with superb restaurants. Walk to one of our neighborhood eateries and regain your strength!
Interested in moving to West Broad Residences? You're in good company. Get in touch with us today and make your kitchen and dream home a reality.